I have a precious friend adopting with our agency whose little guy needs our prayers. You can read more about it on their blog here.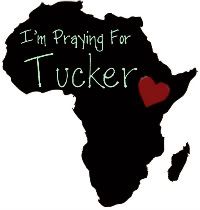 Tucker is Lauren's FIRST baby boy…and she will be traveling in ONE month to see him for the first time. They'll then have to travel back home and wait for an embassy date…and hopefully have him home in February. Please pray that Tucker begins to thrive, gain weight, transitions to regular formula (we went through this SAME thing with Isaac while he was in ET), and that he will stay well. Pray for Lauren and her husband as they wait on the other side of the world longing to be with their son!!! If you have a chance, please visit Lauren's blog and leave her a note in the comments to encourage her and let her know you are praying. I remember being in a similar spot and how MUCH prayers of complete strangers meant to me!!!
THANK YOU FOR JOINING ME IN LIFTING THIS PRECIOUS ONE UP TO THE LORD!!!
And a few more prayer requests for tiny ones who are sick…There are A LOT of babies and children at Hannah's Hope right now going in and out of the hospital. Addison (my friend Betsy's daughter) and Daniel (my friend Jenn's son) are two more that you can pray as they have been sick on and off as well. Also lift up Baby "T", my friend Connie's baby who now has pneumonia. Thank you for praying for them by name. The Lord knows exactly who they are…and they are all so tiny and just precious…please pray the same for these babies–that they will be strengthened and stay strong as they wait for their mommies and daddies to come and get them to bring them home. Pray a hedge of protection over them…God is able and He can sustain these sweet ones and even make them completely healthy…pray for their parents as they feel helpless and trust the Great Physician to be by their babies' side.
If these babies were HERE…most of them would be special care receiving the best care we have available. On top of being sick—some of them probably have parasites and other things that also make fighting illness extra hard. We just don't know sickness like Africa does here…it is just LIFE there. Truly…by our standards of wellness–much of Africa belongs in the ICU if they were here!!! It is easy to get numb to the fact that thousands of children are dying every day there–and unlike these babies most of them have no one to pay for their medical care…let alone bring them home and fight for them. It can be SO OVERWHELMING…so much so–that we do nothing. OR…we can say "I have to do something…" and start praying how God wants to use us to impact His children and His world…it is NOT impossible—as all things are possible through Him!
Thank you for praying for these babies!!!
Andrea